Before there was YouTube, there was "Joanie 4 Jackie."
In 1995 artist Miranda July, who was steeped in the Portland Riot Grrrl scene at the time, created a feminist "chainletter tape," a DIY effort to spark and distribute new video work by women nationwide. She handed out pamphlets asking budding artists and filmmakers to send their self-made shorts and $5 in exchange for inclusion in, and a copy of, a 10-movie VHS tape called the "Big Miss Moviola" compilation.
The Getty Research Institute will announce Monday that it has acquired July's entire "Joanie 4 Jackie" archive of DIY movies and video art. The collection, a donation from July, includes more than 200 titles gathered in the 1990s and 2000s as well as videos from "Joanie 4 Jackie" events, booklets, posters and hand-written letters from participants, among other documentation.
Thomas W. Gaehtgens, director of the Getty Research Institute, in a statement called the acquisition "an esteemed addition to our Special Collections that connects to work by many important 20th century artists who are also represented in our archives, such as Eleanor Antin, Yvonne Rainer and Carolee Schneemann."
"Anyone studying the interdisciplinary practices of contemporary feminist artists and scholars will no doubt find the 'Joanie 4 Jackie' archive incredibly valuable," he said.
The Getty is cataloging and digitizing the collection to make it available for scholars.
Also on Monday, July launched joanie4jackie.com, an online record of the project that's been seven years in the making. It includes videos and press coverage of "Joanie 4 Jackie," July's personal correspondence as well as participants' memories of the project and updates on their lives and careers.
The filmmaker and writer said the project is more than a sociopolitical and cultural time capsule. It's especially personal.  
"Through 'Joanie 4 Jackie' I learned how to conceive of myself as a filmmaker — how to create a sustaining community hidden inside a larger culture that didn't even know we existed," she said. "That has served me well in every facet of my life and it is my greatest hope that the archives will provide fodder for new ideas about networks, survival, and the use of technology."
The video
can be seen on the Joanie4Jackie site.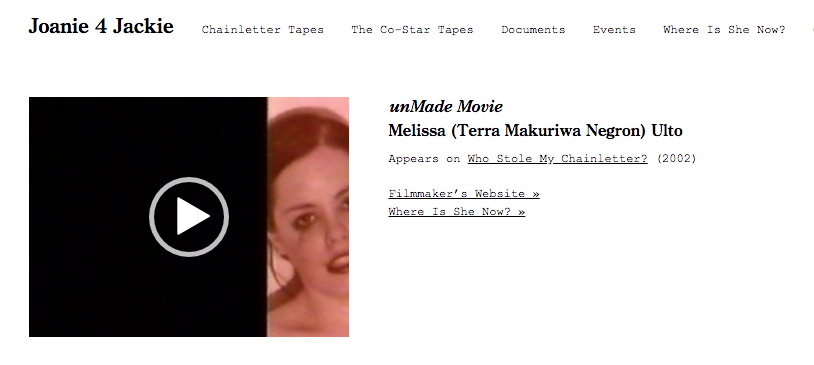 ---
And here is my "Where Is She Now?" questionnaire response:
Where is She Now?
Chainletter Filmmakers:
Melissa (Terra Makuriwa Negron) Ulto, unMade Movie
November 30, 2016
How did you find out about Joanie 4 Jackie and how old were you at the time?
I was 30 and had been making video art for a while but had no place to show it. I finally had a group show at a gallery that had the capacity to show my work, but only if I brought in the equipment.
What interested you about the project?
I loved the fact that it was a woman curating this, and not a rich woman, but an ordinary art maker like myself.
At the time you participated in Joanie 4 Jackie did you consider yourself a filmmaker? What was your relationship to making movies?
Yes, I had been making film and video art for about a decade at that point.
Do you have any specific anecdotes or memories associated with your movie?
I made this film as a reaction to dissolving my need to please or be judged by men.
What did you think/feel about the Joanie 4 Jackie at the time? And now, in retrospect?
I felt like we were a bunch of art rebels, like the Guerrilla Girls (hola to my sistas), and now I feel like we are being memorialized for the work.
What institutions, groups, people, publications and movements were inspiring you at the time of your participation in J4J?
Guerrilla Girls, working with Coco Fusco at Columbia University, and the general feeling of post 9/11 dread.
What do you do now – professionally and otherwise? Are you still involved in filmmaking?
I am a filmmaker still, struggling, and trying to fund my projects.
Anything you would like to see on the J4J site?
More videos!!!